This is true, no doubt.
Well, this is actually very simple

1. Become a street urchin
2. Get the lamp
3. Marry the princess
Ok, it's just a joke.
Remember Princess Jasmine?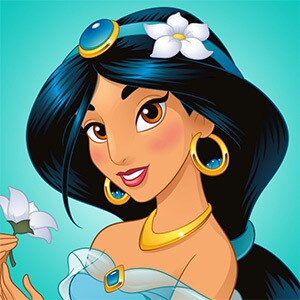 You may just remember that is a getting tired of being forced to remain in the palace Princess.
 In fact, Jasmine Princess embodies the film's central theme of longing for freedom from some form of confinement or oppression. In the film, Jasmine releases a flock of birds from their cage, which serves as a metaphor for her own situation, being "caged from a world she has never seen and yearns to be released." Jasmine's bedroom is also shaped like a bird cage to represent her own confinement. Jasmine's story also explores themes such as civil rights, racial tolerance, social hierarchy, and Life, Liberty and the pursuit of Happiness.
Perhaps these profound content as an animated film, most of the audience is only concerned about the bizarre storyline and the fresh, gorgeous animation production.
In addition to harvesting the perfect love, the jasmine princess's luxurious bedroom really attracted the girls, the beautiful curtains and gorgeous furniture filled with the princess's bedroom. The bedroom is full of beautiful mystery curtains really become the standard of the princess bedroom.
Of course, according to the aesthetic of modern people, now have abandoned these old curtains, want to know the modern Princess room what is it?
https://www.kinlo.co/shop/kinlo-flocking-peonies-tulle-curtain-white/